"Defending Marriage Is Not 'Hate,'" say pro-family advocates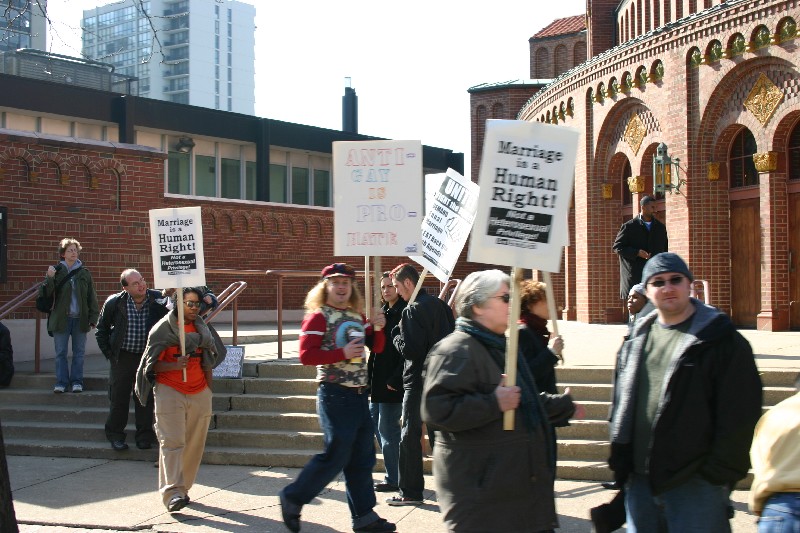 The far left, Chicago-based Gay Liberation Network has been smearing Christians as "haters" for years. Here they shown in 2005 picketing the city's beloved Moody Church, which GLN fanatically labeled a "House of Hate" because Moody pastor Erwin Lutzer wrote a book against homosexual "marriage." Click to enlarge; photo by Dave Smith, Illinois Family Institute.
_____________
News Advisory, Protect Marriage Illinois and Americans For Truth
November 15, 2008
Contact: Peter LaBarbera: 630-717-7631; [email protected]
CHICAGO – Peter LaBarbera, Board Member of Protect Marriage Illinois and president of Americans For Truth (www.aftah.org), issued the following statement in response to the national homosexual protest day against Proposition 8's passage in California. LaBarbera joins Matt Barber of Liberty Counsel (www.lc.org) and a small group of Illinois pro-family advocates in Chicago to oppose the Chicago pro-homosexual-"marriage" rally today at Federal Plaza.
Statement by Peter LaBarbera:
We stand here today proudly in support of Prop 8 – which preserves the age-old definition of marriage as between and a man and a woman in California – and similar pro-traditional-marriage amendments that have passed in 30 states across the nation. Americans have spoken: they oppose the radical redefinition of marriage. We in Illinois hope to join the other states in passing a constitutional amendment to prevent activist courts from foisting "gay marriage" on our citizens.

Read the rest of this article »