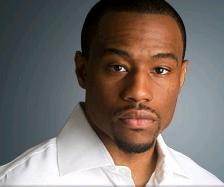 Temple U. Professor Dr. Marc Lamont Hill (left), a frequent guest on FOX News, believes Americans are "homophobic" because most still don't like to see homosexuality (compared to heterosexuality) on TV or the big screen. We say Prof. Hill should get off his liberal high horse and stop lecturing Americans for their normal reaction to unnatural and immoral behavior. Lamont can't change his blackness, while many ex-"gay" men and women have left their old homosexual life behind. In the Fall, Lamont will move to Columbia University.
Folks, I sent the following e-mail to FOX's late-night "Red Eye" host Greg Gutfeld, and cc'd to guests Marc Lamont Hill and Monica Crowley:
From:  Peter LaBarbera, Americans For Truth About Homosexuality
To:  Greg Gutfeld, host of FOX's "Red Eye" [redeye@foxnews.com]; (guest) Prof. Marc Lamont Hill; Monica Crowley (FOX commentator and also a guest on that segment)
Date:  March 30, 2009

Greg [Gutfeld] and FOX "Red Eye" Crew…

…. I caught the tail end of the segment on tonight's Red Eye where Prof. Marc Lamont Hill was lecturing us about "homophobia" – comparing gay sexual content with straight sexual content. So, does the ever-expanding definition of that tendentious term now cover all those who don't want to see two men kissing on TV, or those who recoil at two guys engaged in "gay" foreplay on the big screen? Then guess what: we're all "homophobes" now except for a small percentage of homosexuals and straight "progressives." (Note that use of the latter term is curiously conditional on labeling as "progress" the embrace of aberrant sex linked disproportionately to STDs, including HIV; the CDC reports that a full 71 percent of male HIV cases in 2005 were linked to MSM, or "men having sex with men": http://www.cdc.gov/hiv/topics/msm/resources/factsheets/msm.htm.)

How condescending and pompous of Dr. Hill to peer into each of our hearts and minds and diagnose us with irrational fear ("phobia"). I didn't see the rest of the segment — could you please post it online? — but please, please, don't tell me that FOX is now joining the legions of pseudo-moralists who judge anyone who doesn't celebrate homosexuality or cheerlead for "same-sex marriage" as somehow fearful, bigoted and hateful.