President Obama degraded the Office with liberal Stewart's help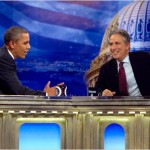 Barack Obama may be setting new highs when it comes to presidential appointments of People Practicing Homosexuality (PPH) in his administration — already more than 150, according to AP — but he's setting new lows everywhere else. Yesterday, leftie Comedy Central "anchor" Jon Stewart referred to the Commander-in-Chief as "dude" in the course of his half-hour interview with Obama. (Obama is the first president to appear on the show.) 
Read liberal Washington Post writer Dana Milbank's slam on Obama and his appearance ("On Comedy Central, the joke was on President Obama Wednesday night") HERE, and watch the "dude" reference in context starting at about 1:45 on Part 3 of the videos of the Daily Show interview HERE.
I agree with this comment responding to a YouTube critical of Obama's Daily Show disaster: "Obama has diminished himself so many times enough already that even liberals don't treat him with presidential respect." We at AFTAH are not nearly as cool as Jon Stewart, and don't have anything approaching his cultural sway (especially with young people), but here are some questions and comments we wish he would have delivered to the Dude-in-Chief:
Dude, stop undermining our military by using illegal means to homosexualize it (under the existing law that only Congress can change, homosexuals are barred from serving in the Armed Forces; see www.cmrlink.org); 
Dude, abortion is the murder of an innocent life; stop promoting it and don't make taxpayers subsidize it;
Dude, aren't you trashing the Defense of Marriage Act and the Constitution by granting via Executive Order marriage-type benefits to homosexual "spouses"?;
On the same point: dude, you really pulled the wool over America's eyes (and Rick Warren's…) with all that talk in the 2008 campaign about how you believe marriage should be preserved as between a man and a woman. If that were true, why didn't you use your Bully Pulpit to criticize the homosexual activist judge who recently single-handedly overturned California's Proposition 8 — even though this marriage-defense amendment had passed in a statewide referendum?