Christian Anti-Defamation Commission asks for a retraction and an apology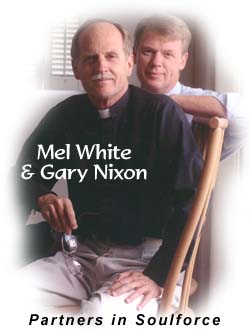 Soulforce founder Mel White, pictured here with his homosexual lover Gary Nixon, accused Christians who adhere to historic Church teachings on the sinfulness of homosexuality of "spiritual violence" against homosexuals. Despite his and Soulforce's manipulative tactics, God's Word is not negotiable.
Folks, in reading this release by Gary Cass, I cannot help but wonder if the several churches that agreed to meet with the homosexual activist group Soulforce — including Willow Creek Community Church in Illinois — were naive about its radical agenda. Soulforce and its founder, Mel White, have always used manipulative and deceptive strategies (including the wordsmith White's calculated accusation that faithful Christians are guilty of "spiritual violence" against homosexuals).
Soulforce is a nefarious organization that seeks to undermine Biblical truth about one particular sexual sin — homosexuality. Their pleadings for "dialogue" with Christians are merely a tactic — the camel's nose in the tent, as it were — part of their larger goal of duping believers into compromising on God's Word. We ask again: would Willow Creek Church or other mega-churches enter into (forced) "dialogue" with a "Christian porn" group? We hope not. Pray for White and the entire Soulforce crew — including "straight allies" like Jay Bakker, who claims to have received a special pro-homosexual revelation from God.
Christians must minister the Gospel in love to sinners in need of Christ's forgiveness and healing power. But unless we are open to "dialoguing" with advocates of other sins, we shouldn't do so with activists who twist the Bible to accommodate homosexuality. God's Word is not negotiable.—Peter LaBarbera
________________________________
Christian Anti-Defamation Commission
News Release
June 13, 2008
In an outrageous example of sloppy journalism, Newsweek's Lisa Miller defamed Pastor Rick Warren, the best-selling Christian author and mega-church pastor. Miller reported Warren compromised on the matter of homosexuality.
The bogus claims originated with a homosexual activist group, Soulforce. It issued a press release stating they were meeting with Rick Warren for a "conversation" and that Warren was inviting homosexual fathers to come to church on Father's day.
Timothy Egan of The New York Times furthered the lie. Neither major news outlet fact checked the story.
Rick Warren responded: "Newsweek quoted a Soulforce press release headline that was 100% false. We did not invite this group and I will not be meeting with them. They invited themselves to draw attention to their cross country publicity stunt."
"Soulforce is not trying to have a 'conversation,' it is trying to force its pro-homosexual agenda on to churches. Newsweek and the New York Times owe Rick Warren an apology for publishing reports he compromised the Christian view of family," said Dr. Gary Cass, of the Christian Anti-Defamation Commission.
"God ordained marriage to be between 'one man for one woman for one lifetime.' Warren would never intentionally undermine that standard," said Cass. "Soul Force's attempt to legitimize its radical homosexual views by associating themselves with Rick Warren's ministry is deceitful and shameful."
Soulforce is the middle of a mega-church blitz called "The American Family Outing." This trip is an effort to "spark a conversation" between the gay, lesbian, bi-sexual, and transgender families and the members of the six mega-churches. The tour ends at Warren's Saddleback Church in California.
"Soul force says they want to 'spark a conversation.' Too bad for Soul Force they just set their own pants on fire," said Cass. "If Soulforce can rationalize their homosexuality and work to destroy God's institution of marriage, then defaming a faithful Christian minister along the way must apparently not be a that big of a deal."
ACTION ITEM: E-mail Newsweek's editor and ask that they issue a retraction and an apology to Rick Warren for publishing a false report that he compromised the Christian value of traditional family. Send email to WebEditors@newsweek.com.
CADC
PO Box 39875
Ft. Lauderdale, FL. 33339
(866)508-2232
www.christianadc.org
To contact the Christian Anti-Defamation Commission email contact@christianadc.org.
This article was posted on Friday, June 13th, 2008 at 11:09 pm and is filed under
A - What does the Bible say about homosexuality?
,
Activists
,
D - GLBTQ Pressure Within Churches
,
Homosexual Hate
,
Homosexual Quotes
,
Media Promotion
,
Media's Liberal Bias (General)
,
New York Times
,
News
,
Newsweek Mag.
,
Religious Leaders
,
The Bible, Churches, & Homosexuality
. You can follow any updates to this article through the
RSS 2.0
feed.