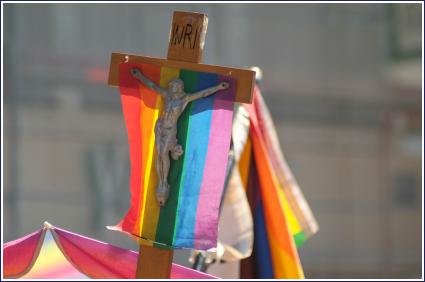 Click on photo to enlarge. I highly commend this terrific piece by Prof. David Carlin, first published by InsideCatholic.com, which succinctly states an important truth. You can read the interesting reader comments to Carlin's column at the InsideCathlic.com. Neurotic 'heterosexist' that I am [heterosexist is another putdown term in the ever-expanding "Gayspeak" lexicon; see this navel-gazing entry in Wikipedia], I took the liberty of adding quote marks around same-sex "marriage" below. On that point, I just learned that the Washington Times (where I once worked as a reporter) and its new editor, John Solomon, recently stopped putting homosexual "marriage" in quotes, to their discredit. They also replaced "homosexual" with "gay." More on the Times' PC semantic slide later. — Peter LaBarbera P.S. Isn't truth, well stated, wonderful?

Pro-Gay, Anti-Christianity
by David R. Carlin
May 21, 2008, InsideCatholic.com
The trouble with "liberal Christianity" is that it isn't Christianity. It is something else — a new and ever-changing religion that attempts to hijack the old and revered name of Christianity.— David Carlin
A learned friend of mine recently wrote an op-ed piece for a newspaper in which she argued that the drive for same-sex "marriage" is not simply about same-sex "marriage"; it is also about winning moral approval for homosexuality. If society, acting through the state, tells us that homosexuals can marry one another, then it is by the same token telling us that there is nothing morally objectionable about homosexual conduct.
My friend is, of course, correct. But I'll add to this that the drive for same-sex "marriage" is not simply about same-sex "marriage" or the moral legitimization of homosexual behavior; it is also about the de-legitimizing of Christian morality. More, it is about the de-legitimizing of Christianity itself.
The taboo on homosexual conduct is as old as Christianity itself (pace the late gay historian John Boswell, who argued — absurdly — that the taboo didn't appear until many centuries after the foundation of Christianity and is therefore not an essential part of Christian morality). And it is older even than that. It clearly goes back to Old Testament times. And if there is such a thing as natural law, the taboo is rooted in natural law; for nature (or God as author of nature) seems to have designed the anatomy and physiology of human beings in such a way that sex between men and women is sex "according to nature." Sex between men and men or between women and women, though it can be accomplished in an unnatural manner, doesn't seem to be what nature/God had in mind.
Read the rest of this article »