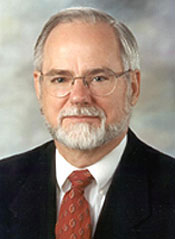 TAKE ACTION:  Help counter the pro-homosexual lobby's smear campaign attempting to "Bork" Dr. James Holsinger, President Bush's nominee for U.S. Surgeon General. Here's how: 
Call your U.S. Senators at 202-224-3121 or write them (http://www.congress.org/) and politely urge them to support Dr. James Holsinger, Jr. as Surgeon General; the members of the Senate Health Committee, which will first consider Holsinger, can be found HERE (e-mail the committee at:

[email protected]

) — but Holsinger's nomination will likely be voted on by the whole Senate, so tell your Senators to use their influence to insure that he is treated fairly;
Thank the White House (202-456-1111 or -1414; e-mail:

[email protected]

; www.whitehouse.gov/contact) and urge the President to stand by Dr. Holsinger and not to be swayed by the pro-homosexual lobby's distortions and anti-Christian bigotry;
Tell your friends to support Dr. Holsinger with a quick e-mail or call.
Click HERE TO READ DR. HOLSINGER'S 1991 PAPER, "PATHOPHYSIOLOGY OF MALE HOMOSEXUALITY," which liberal, pro-homosexual groups are distorting to discredit him.
 __________________________
Dear Americans For Truth Reader, 
By Peter LaBarbera 
Folks, anti-Christian homosexual activists and their liberal allies are out again in force to take down another good man — Dr. James Holsinger, Jr., President Bush's nominee for U.S. Surgeon General — who happens to agree with the ancient Judeo-Christian moral understanding of homosexual practice as unnatural, unhealthy and wrong.
The ABC report below is Orwellian in its framing of the campaign against Dr. Holsinger — a Christian medical doctor (cardiologist) who also holds a doctorate in anatomy and physiology. Holsinger is being vilified because he wrote in 1991 that male homosexual sex practices are unhealthy, and because he believes that men and women can abandon homosexuality.
The ABC report below — which includes a politically correct quote by the spokesman for the federal Department of Health and Human Services (HHS) — implies that Holsinger's writings, such as his 1991 paper, "Pathophysiology of Male Homosexuality," are obsolete and way outside of the scientific mainstream. Hello… Has there been some change in human anatomy (perhaps some hyperactive "evolutionary" mutation in the last 16 years) that suddenly makes rectal sex between men natural and good for the human body?
Please take a few minutes to read Dr. Holsinger's 1991 paper, reprinted on our website. It was written for a United Methodist Church committee studying homosexuality. See for yourself if the paper has the ring of extremism. Here's an excerpt:
From the perspective of pathology and pathophysiology, the varied sexual practices of homosexual men have resulted in a diverse and expanded concept of sexually transmitted disease and associated trauma. "Four general groups of conditions may be encountered in homosexually active men: classical sexually transmitted diseases (gonorrhea, infections with chlamydia trachomatis, syphilis, herpes simplex infections, genital warts, pubic lice, scabies); enteric diseases (infections with hig gel la species, Campylobacter jejuni, Entamoeba histolytica, Giardia lamblia, hepatitis A, hepatitis B, hepatitis non-A, non-B, and cytomegalovirus); trauma (fecal incontinence, hemorrhoids, anal fissure, foreign bodies, rectosigmoid tears, allergic proctitis, penile edema, chemical sinusitis, inhaled nitrite burns, and sexual assault of the male patient); and the acquired immunodeficiency syndrome (AIDS)" (Owen, 1985).
Read the rest of this article »