Women who want to be men march shirtless to display their flat chests after 'transgender' breast removal surgeries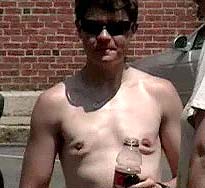 CAUTION: VERY DISTURBING. This is a woman who had her (healthy) breasts removed to appear like the transgender "man" she wants to be. "Transgender" is the "T" to which homosexual activists refer when they promote "GLBT youth." The pro-family organization MassResistance took this photo during a recent June 7 "transgender pride" parade in Northampton, Massachusetts. Click HERE for the full MassResistance report on this perverse parade.
The shocking photo-story by our good friends at MassResistance is one of the most tragic things I have ever seen. Once before at a transgender conference in Washington, D.C., I witnessed the pitiful spectacle of "transgender men" — that is, women who want to become "men" — showing off their flattened chests after their healthy breasts were removed in accordance with their perceived "gender identity."
My heart aches for this poor woman — yes, woman — who is so deceived that she has permanently mutilated her own body to pursue a false "gender identity." This is what happens when (wo)man's "feelings" and confusion — and ideology — are elevated above nature itself, not to mention God.
Read the rest of this article »