Pornographic "leather" perversion-fest features "educational" meetings on "fisting," "scat," "mummification." Critics cite public health hazards, urge host hotels Westin, Hampton Inn to cancel event
Article in progress
— Part 1 — This situation is in flux as CLAW organizers apparently are already responding to critics and health complaints: 
WARNING: This and future articles on CLAW exposes vile, horrific and extremely unhealthy sexual perversions practiced by a segment of homosexual men (and some heterosexuals) known as the "leather community." It contains graphic, verbatim descriptions of seminars and is not meant for children.
___________________________
By Peter LaBarbera, AFTAH  Exclusive
Thousands of homosexual "leathermen" (sadomasochists) plan to gather in Cleveland, Ohio for the annual CLAW (Cleveland Leather Awareness Weekend) BDSM (Bondage/Discipline, Dominant/Submissive, Sadism/Masochism) conference next week. AFTAH has acquired documents from CLAW's organizers that describe a potpourri of perversions so extreme and depraved that they are surely unimaginable to the average person. Those workshop descriptions are reprinted below.
TAKE ACTION: Contact Info:
Concerned citizens are contacting the following to complain about the CLAW perversion-fest:
[Call/Email Here First:]

Commissioner of Health, Cleveland Department of Public Health (Ms. Persis Sosiak): 216-664-7414; email: psosiak@city.cleveland.oh.us;
The Westin Cleveland Downtown: 216-771-7700.

Special instructions:

 Westin is owned by Starwood Hotels, which was bought out by Marriott International Hotels; call 301-380-3000 and ask for a Supervisor to make a formal complaint about Westin Cleveland Downtown hosting CLAW. 
National Westin Hotels Corporate Office: 888-201-4482
Hampton Inn Downtown Cleveland: 216-241-6600
Hampton Inn Hotels Corporate Office (hit "5," then ask for "Guest Assistance"): 800-426-7866
Cuyahoga County Board of Health: 216-201-2000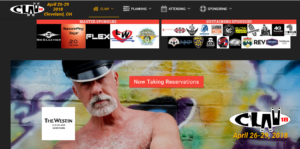 Summary:
CLAW is an annual homosexual sadomasochistic "conference"/orgy in Cleveland April 26-29–hosted this year by The Westin Cleveland Downtown and the Hampton Inn Downtown Cleveland. It will draw up to 3,000 "leatherman" from across the world, organizers say. See AFTAH's article on the über-perverse 2016 CLAW event HERE.
CLAW is one of dozens of predominately "gay" male leather gatherings held annually in various cities worldwide that celebrate the most heinous perversions invented by mankind. See past AFTAH exposés on International Mr. Leather (Chicago: 2016; 2008); the Folsom and the Dore Alley Street Fairs in San Francisco (2009; 2014); and "Folsom Street East" (New York CIty).
CLAW features more than 100 "educational seminars" on such topics as: "An Intro to Fisting" (a perversion in which a man inserts his hand and forearm into the rectum and lower colon of his  sex partner); mummification; "Adult Baby Diaper Lover (ABDL) 101″ (an "infantalism" fetish in which adults wear diapers like babies); "cock and ball torment"; "Erotic Humiliation"; and "Scat: Beyond Brown"; "scat" is a perversion eroticizing feces in which men defecate on one another for sexual pleasure.
Some of these events apparently will feature actual demonstrations of the "kinky" activities–or at least originally planned to–and are being held [or were scheduled to be] in conference rooms in the two hotels (as well as outside venues where presumably the larger orgies and most extreme activities will take place). For example, at press time, the planned "Scat" "educational seminar" was to be held in the "Second Floor Ontario Room of the Hampton Inn."
CLAW, a 501c3 organization, considers itself a "charity." The annual deviant sex-fest raises funds for  mostly "gay"-oriented, organizations. In 2017, CLAW reportedly gave $3,000 to the Northeast Ohio chapter of GLSEN, the Gay, Lesbian, Straight Education Network, the leading LGBTQ pressure group promoting homosexuality and transgenderism in schools.
CLAW Sessions: Sexualizing Feces
Read the rest of this article »