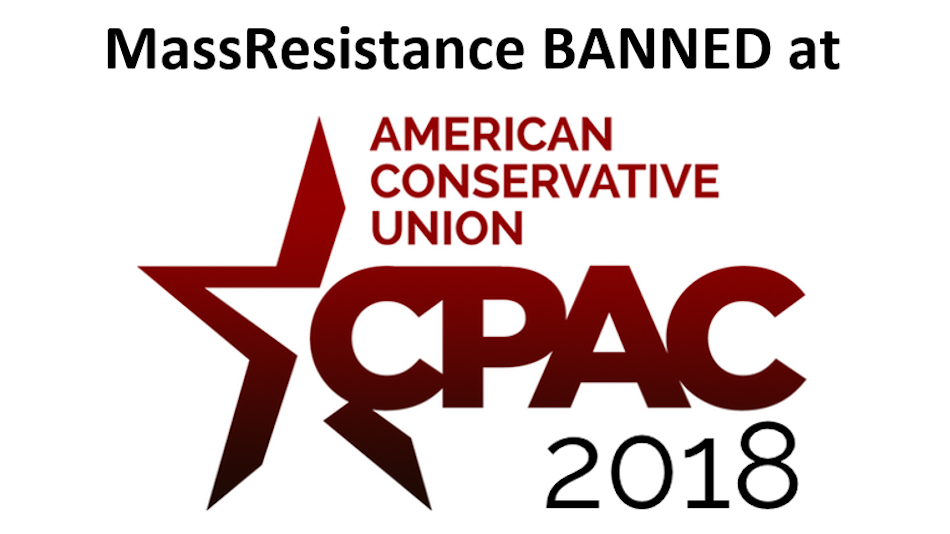 Folks, this essay by my friend and author Amy Contrada lays out some of the troubled recent history of CPAC (Conservative Political Action Conference) and homosexuality. Last week, CPAC's executive director, Dan Schneider, suddenly disinvited our friends at MassResistance as an Exhibitor sponsor at the conservative conference (which began yesterday) after first allowing MR to exhibit. You see, as Amy documents, CPAC–the group that welcomed self-styled "Dangerous Faggot" Milo Yiannopoulos as a speaker last year, is concerned that MassResistance president Brian Camenker lacks "common decency"! (This is not a joke.) And needless to say, the same CPAC again this year welcomed the homosexual-transgender activists at Log Cabin Republicans as Exhibitors. [Watch the short AFTAH video on Log Cabin-Chicago's perverted 2009 "gay pride" float HERE.]
When MR was booted, AFTAH applied for an Exhibitor's table, but we never heard back from CPAC and our $2,000 payment was not processed. Then I learned that CPAC denied journalist's credentials to Cliff Kincaid, a good friend of AFTAH and a rare conservative leader who still fights the radical LGBTQueer agenda. It seems that the CPAC model for building a "conservative" movement is to alienate real conservatives, especially socialcons, while pandering to social "progressives" at the expense of biblical truth and fidelity to the GOP Platform. What folly. More coming on this CPAC-sellout story.  — Peter LaBarbera, AFTAH; Twitter:" @PeterLaBarbera
[WARNING: Crude language.]
________________________________
Pro Family Group Asks: Is the Conservative Movement Dead?
By Amy Contrada
Our conservative pro-family group MassResistance was approved in January as an exhibitor at CPAC, the Conservative Political Action Conference. We were abruptly disinvited last week. We are trying to understand the reason.
CPAC's parent organization, the American Conservative Union, claims it "defines conservatism." They hold a huge annual conference in DC, beginning February 21 this year.
Why would a group or speaker be banned? CPAC Executive Director Dan Schneider said he rescinded our participation due to our uncivil discourse. He was "uncomfortable" with our tone. CPAC has been telling our supporters who call that we "lack common decency." Several of our supporters were even told that our group encourages violence against gays! That is libelous. We've never done anything of the sort.
How has CPAC responded to the actual uncivil discourse of its invitees in the past? Let's look at two examples: the Log Cabin Republicans and Milo Yiannopoulos. We will then describe our own shocking treatment at the hands of the "conservative establishment."
Log Cabin Republicans
The LGBT activist Log Cabin Republicans (LCR) have a table at CPAC 2018 for the third year in a row. Here's how they reacted to the 2016 Republican Party Platform in full-page ad in USA Today:
LOSERS! MORONS! SAD! No, these aren't tweets from Donald Trump. This is what common-sense conservatives are saying about the most anti-LGBT platform the Republican Party has ever had. GOP Platform Committee: Out of touch, out of line, and out of step with 61% of young Republicans who favor same-sex marriage.
Is an ad portraying fellow Republicans as "losers" and "morons" civil discourse? LCR admitted their ad was "provocative." Their president explained he was "mad as hell" as he ranted against the platform's "nonsense" on same-sex marriage, transgender bathroom access, and approval of counseling for those questioning their sexual orientation.
At a gay pride event in Chicago [see AFTAH video], the LCR float included signs reading:
A strong military shoots big loads
BIG DICKS – small government
CUT TAXES – UNCUT 8 inches
Yet the American Conservative Union (ACU) and CPAC have had no problem with LCR's insulting and degrading language. This is despite LCR's violation of one of the four mandatory criteria for being a CPAC sponsor, namely that "The applicant organization must not exist primarily for a liberal purpose." And what is LCR's main purpose? Promoting the radical homosexual and transgender agenda – clearly a liberal purpose, and their core identity.
Milo Yiannopoulos aka 'Dangerous Faggot'
In 2017, vulgar "gay" provocateur libertine Milo Yiannopoulos (who calls himself the "Dangerous Faggot") was invited to be the keynote speaker at CPAC. Milo's "tone" was no secret. ACU's invitation went out to him despite his performance a year before in Cleveland during the 2016 Republican Convention where he flamed out in his rank language.
Read the rest of this article »