Yes, Wayne, there is a God, and he has helped many praying men and women overcome homosexuality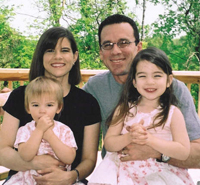 Yvette Cantu Schneider, husband Paul and their two children. Yvette was once a committed lesbian but recently she and Paul celebrated their ninth wedding anniversary. Homosexual activists like Wayne Besen ridicule Christian ex-homosexuals like Yvette with their slogan, "Pray away the gay" — which trivializes healthy change and God's redemptive work in the lives of men and women.
By Peter LaBarbera
I don't know if Sodomitic Spinmeister Wayne Besen of "Truth" Wins Out invented the silly slogan "pray away the gay" to slam the observable reality that homosexuals can leave the lifestyle (as countless thousands have), but he is busy promoting it. The following is taken from Besen's new column criticizing President-elect Obama for picking evangelical pastor Rick Warren to say the invocation on Inaugural Day:
After all, Warren has a program to "help" homosexuals "pray away the gay" and played a prominent role in passing Proposition 8, which prohibits same-sex couples from marrying in California. He has even compared same-sex couples marrying to incest and child abuse.
Now what's Besen's goal here? Obviously, to ridicule the notion of healthy change for homosexuals, but with the added bonus of playing to secularist, anti-Christian cultural biases and caricatures — which Wayne himself stokes at every opportunity.
Some observations:
There are lots of men and women who once identified as "gay" or "lesbian" who left the lifestyle and are living contented and fulfilled lives in their post-homosexual identities.  My friend Yvette Cantu Schneider just celebrated her ninth anniversary — Yvette was once a proud lesbian [see her testimony HERE] but now is happily married to husband Paul, and they are the parents of two beautiful children. (Yvette also testifies that she has no lingering sexual attraction toward females);