Schwartz defends state action against "bible based bigotry against gays"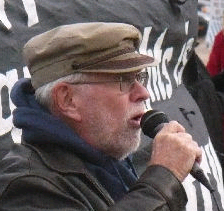 Bob Schwartz of the Chicago-based Gay Liberation Network supports Wright State University's ban against the Campus Bible Fellowship. The Christian campus group opposes Wright's "nondiscrimination" code, which would force it to abandon its faithfulness to Scripture by allowing unrepentant homosexuals as members. Schwartz previously claimed to oppose laws criminalizing Christian speech — yet he favors banning groups because he  considers them "bible bigots." Would Schwartz and GLN (which AFTAH considers to be an anti-Christian hate group) allow a tax-supported public university to dictate ITS membership standards if it operated on a college campus?
AFTAH was copied on the following e-mail letter from Bob Schwartz of the left-wing Gay Liberation Network, based in Chicago, to Wright State University President David Hopkins. Schwartz sent his letter following Americans For Truth's reprint of a press release by the Foundation for Individual Rights (FIRE) , which is fighting to overturn Wright State's oppressive policy of forcing Campus Bible Fellowship to violate its faith creed in order to stay on campus. Note at bottom Schwartz's clarification in response to a question from this writer.
Please study this series of e-mails and links [Wright State story HERE and Schwartz's previous statement against censorship HERE] and see if you can comprehend how Schwartz can simultaneously hold two seemingly contradictory positions:
he "opposes" government censorship against Christian speech (for which AFTAH wrote that "we are pleasantly surprised that the GLN leader is not an outright advocate of censorship");
while he supports a government-funded school banning a Christian group for, effectively, sticking to its Biblical faith creed.
Read the rest of this article »