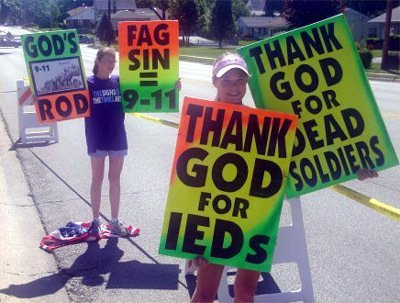 Fred Phelps has expanded on his obnoxious "God Hates Fags" message to now protest U.S. soldiers' funerals, "thanking" God for terrorist killings of our troops as punishment for America's embrace of homosexuality. Above, "IEDs" stands for "improvised explosive devices," of the sort used to bomb American military vehicles in Iraq and Afghanistan. Americans For Truth condemns Phelps' unbiblical messages and his grotesque targeting of soldiers' funerals for his clan's protests. (In 2005, the Kansas 'minister' said then Illinois Family Institute Executive Director Peter LaBarbera was going to hell after LaBarbera condemned his "God Hates Fags" protests.) Phelps' military pickets like the above have led to enactment of a federal law and state laws restricting protests at military funerals; he is challenging the constitutionality of such laws. As Gary Glenn writes below, Phelps also has a history of denying the power of Jesus Christ to change the lives of people caught up in homosexual behavior (although he now seems to at least grant that possibility on his website, http://www.godhatesfags.com/).  Americans For Truth commends Gary Glenn's excellent statement on Phelps below.
______________________________
The following statement was issued by Gary Glenn, president of American Family Association of Michigan in May 2006, upon learning that Fred Phelps of "God Hates Fags" notoriety was planning to stage a protest at a military funeral in Michigan (emphasis added):
Fred Phelps and Homosexual Activists Both Wrong
By Gary Glenn
The American Family Association of Michigan believes that homosexual behavior is harmful and wrong.  Without apology, we oppose attempts by the Triangle Foundation [a Detroit-based homosexual organization] and other homosexual activist groups to force their political agenda onto our children, our public schools, and society at large.
We approach the public policy debate surrounding homosexual behavior with sincere Christian care and concern for individuals who we believe put themselves physically, mentally, emotionally, and spiritually at risk by engaging in such behavior, and with a spirit for protecting children and others put at risk by those who promote and enable such behavior.
We personally know parents who in 2004 helped gather signatures to enact a Marriage Protection Amendment to our state constitution — reaffirming marriage as only between one man and one woman — not because they "hate" their children who are involved in homosexual relationships, but because they love them.
The sincere Christian compassion which motivates our stand is marked by warning against — and protecting those we love from — harmful self-destructive behavior, not by the false compassion of enabling or passing special laws to protect such behavior. 
That's in sharp contrast to the self-described, expressly hate-motivated message of the Kansas "reverend" who plans to picket a local military funeral this weekend.
Fred Phelps insists that individuals who engage in homosexual behavior are beyond hope or redemption, a false doctrine that — while at odds with the true Christian gospel of repentance and forgiveness available to all — is much closer to that of homosexual activists who echo Phelps' insistence that individuals involved in homosexual behavior have no hope of abandoning that lifestyle. 
We strongly disagree.  The false gospel preached by Fred Phelps and the Triangle Foundation is proven wrong by the life experience of individuals who through faith, with God's help, have abandoned homosexual activity and now live their lives in normal loving relationships between a man and a woman, many married with children.  In four Michigan cities, counseling services are available staffed by individuals who themselves abandoned homosexual behavior and are compassionately committed to giving others hope and help in doing so.  (For example, see http://www.corduroystone.com/ in Lansing or http://www.recmin.org/ in Sterling Heights, [Michigan].)
Read the rest of this article »