'Gay' agenda not raised in three presidential debates — but don't just blame the media …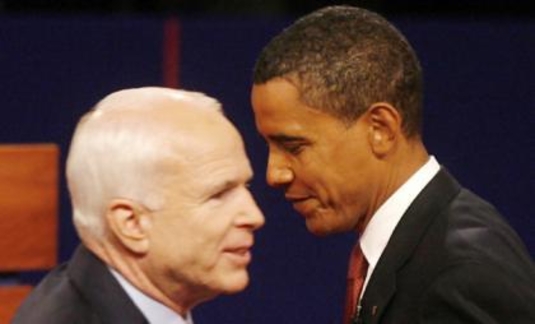 By Peter LaBarbera
OK, now it's official. In three presidential debates to help us decide which man – John McCain or Barack Obama – will lead this nation, the critical issue of homosexual "marriage" didn't even come up.
Add to that the Defense of Marriage Act (DOMA), the federal "hate crimes" bill and Employment Nondiscrimination Act (ENDA), homosexuality in the military, how "gay rights" laws threaten religious and other freedoms, and homosexual adoption of children.
On each of these issues, Obama and McCain strongly disagree, but we never (or barely) got to hear them explain their positions on the same stage – in contrast to Rick Warren's Saddleback Church debate where at least "gay marriage" was discussed. The only time that homosexuality was raised in the four official debates, including the vice-presidential debate, was when moderator Gwen Ifill asked a poorly constructed question about same-sex benefits and then "gay marriage" to Gov. Sarah Palin and Sen. Joe Biden.
The issue of judicial appointments did come up but certainly has received far less attention than it deserves since judges are setting now policy in this country.
Do you feel as gypped as I do by the combination of media bias, campaign jingoism and political correctness that resulted in one of the most important issues facing our nation — whether marriage should be radically redefined to accommodate "rights" based on homosexual behavior – not even being mentioned in the official debates?
Read the rest of this article »