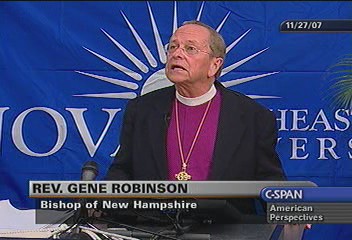 C-SPAN helped homosexual Episcopal Bishop of New Hampshire Vicky Gene Robinson — he was named such because his parents wanted a girl — plead his heretical case to America by airing his speech twice on Christmas Eve night. In the speech, Robinson discussed his plan to enter into a "civil union" with his homosexual lover, saying he always wanted to be a "June bride." The bishop claimed (against all evidence in Scripture) that the Holy Spirit is involved in the crusade for more open homosexuals like him in the clergy. Write C-SPAN CEO Brian Lamb ([email protected]) or call him (202-737-3220) to protest this holiday programming choice that was deeply offensive to Bible-believing Christians. Urge C-SPAN to balance Robinson's lecture by covering a presentation by evangelical Dr. Michael Brown in Charlotte, North Carolina next month titled, "Can you be gay and Christian?"  Photo by C-SPAN.
By Peter LaBarbera
TAKE ACTION: Write ([email protected]) or call C-SPAN (202-737-3220) CEO Brian Lamb today or tomorrow to object to their airing of a speech by a controversial homosexual-clergy activist and Episcopal Bishop of New Hampshire, Vicky Gene Robinson, twice on Christmas Eve.  Politely urge C-SPAN to compensate for this offensive, pro-homosexual coverage by sending their cameras to cover evangelical apologist Dr. Michael Brown and his upcoming conference, "Can you be gay and Christian?" to be held Feb. 11-15 in Charlotte, N.C. 
________________________
I'm wondering why C-SPAN chose to re-air a long speech by homosexual activist and Episcopal Bishop Vicky Gene Robinson on Christmas Eve, one of the most sacred days on the Christian calendar. In his speech Nov. 27 at Nova Southeastern University in Ft. Lauderdale, "How Morality Plays a Role in Legal Rights, Especially for the Gay Community," which had already been aired on Dec. 8, Robinson claimed that the Holy Spirit was involved in the crusade for homosexual "inclusion" in the clergy.
First things first: did you know that the infamously "gay" bishop's first name is "Vicky" (as you can see above, C-SPAN only put "Gene Robinson" on the screen). Apparently his parents really wanted a girl and — when they doubted their sickly newborn would even live — they named him accordingly: Vicky Imogene (middle name after the mother) Robinson. In 2003, the Concord Monitor reported matter-of-factly (as only the agnostic media can) on the birth of the baby who would become Episcopal "Rev. V. Gene Robinson" as follows:
Robinson was born in Lexington, Ky., in 1947, in a delivery that went so wrong the doctor told his father he needed a name for the baby's birth and death certificates. Charles and Imogene Robinson had counted on a girl, so Robinson's father named the baby Vicky Imogene Robinson.
Now, common sense dictates that if you do not want your boy to struggle with masculinity or gender issues, perhaps it is not a good idea to name him "Vicky," or Susan, or Linda. In this BBC video interview, Robinson calls his father's decision to give him a girl's name "a terrible thing to do to a boy child." 
Indeed, but it gets worse.
Read the rest of this article »