Mayor Bloomberg panders on "gay marriage" then gives homosexuals special rights to violate city anti-nudity laws
WARNING: Graphic Behaviors Described
Note on Nudity and Numbers: an atheist homosexual leatherman, Joe Jervis, has challenged our source's reporting on the number of leatherman who exposed themselves at "Folsom Street East."  Jervis, who mocks Jesus Christ (by calling him "Jeebus") and revels in repeating the lie that AFTAH founder Peter LaBarbera is a closeted homosexual, attended the event … as the judge of a "porn star contest." (He says he cannot show the photos from that — as if to prove our point.) We checked back with our New York videographer and he estimates that the number of men who walked around with genitals and/or buttocks exposed at 50 to 200. Whether the figure is 25 or 175, the photos below speak for themselves. And it is shocking that such illegal public nudity and lewd acts were allowed to go on at all. Click HERE to watch AFTAH's video on Folsom Street East. — Editor]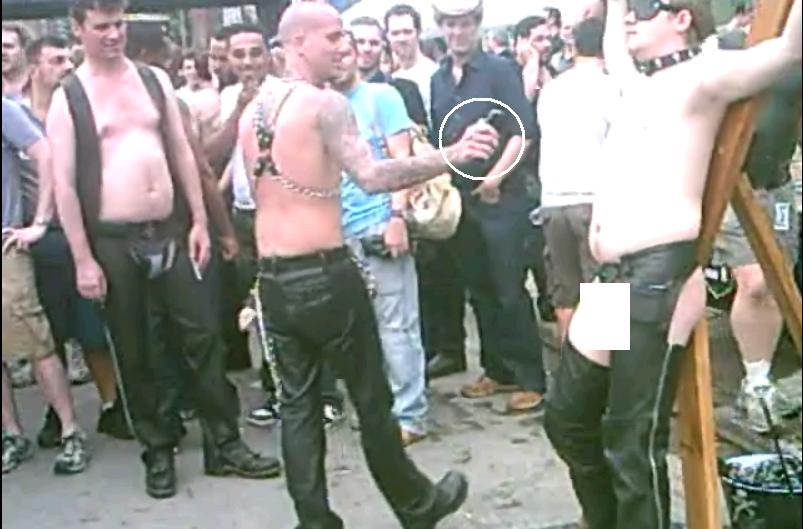 "Shocking" Public Perversion in Big Apple: a sadistic homosexual engages in "electro-torture" by remote control of another man (exposed genitals covered up in all photos) at New York City's "Folsom East" block party. (The hand-held remote control device is circled in photo.) New York Mayor Michael Bloomberg supports legalizing "gay marriage" but apparently he decided not to enforce anti-nudity and anti-lewdness laws in his own city on Sunday, June 21st. Click on photos to enlarge.

NEW YORK CITY — Americans For Truth About Homosexuality has obtained shocking video footage of a sadistic homosexual street fair in Manhattan Sunday (June 21, 2009) in which hundreds of men walked around naked and engaged in public lewd and sadistic acts in violation of state decency laws — as police did nothing, apparently under orders from New York City's governing authorities.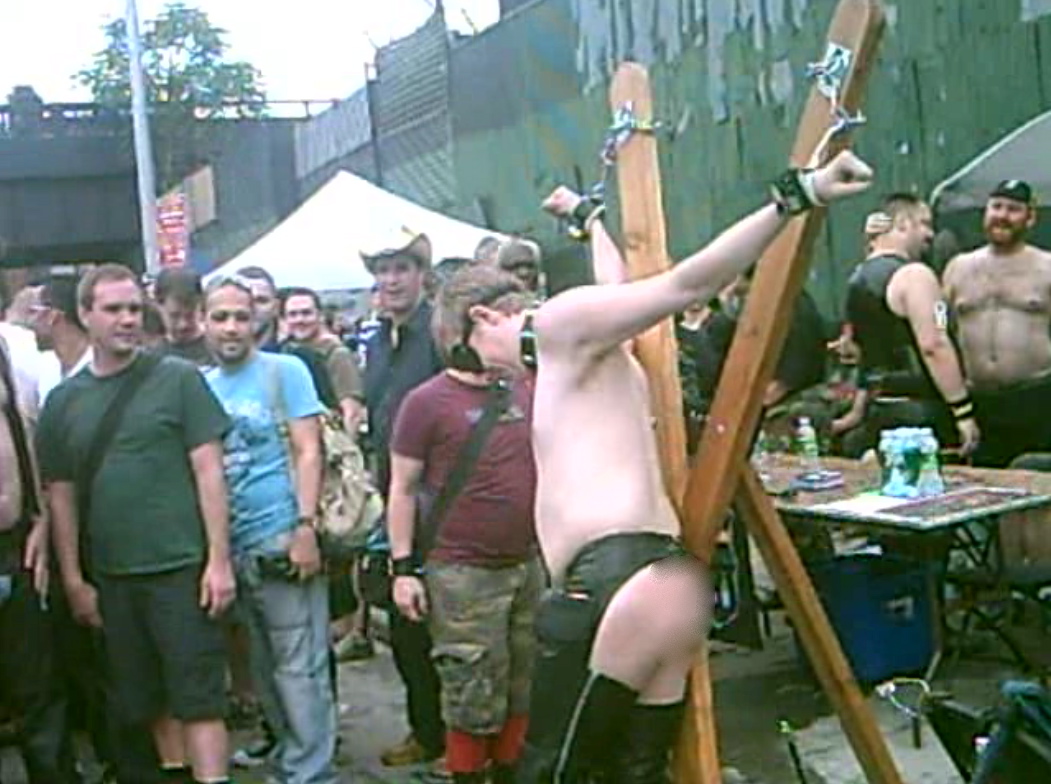 Above is a photo of a man engaging in a public "electro-torture" of another man (his exposed genitals covered up in our photo) at the "Folsom East" street festival in New York City. The 'torturer" is holding a remote control device (like a TV remote, circled in the photo) which sends an electrical current shock through the body of the man bound to a St. Andrew's cross — who writhed in pain every time the torturer pressed the button (see photo at right). Dozens of men looked on with satisfaction at the grotesque spectacle.
Read the rest of this article »