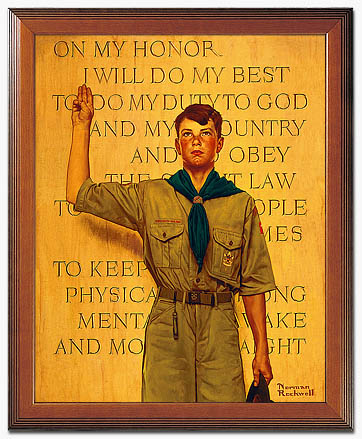 Surely the homosexual (and atheist) lobby's vindictive, selfish and shameless campaign against the Boy Scouts of America is one of the cruelest ever orchestrated by the Left. They could care less about this wonderful organization for boys, which they are helping to destroy and bankrupt through endless legal harassment.
Do you still have a problem saying that organized homosexuality is a force for evil in our society? Thank God that the Philadelphia Scouts' Cradle of Liberty Council, which initially sought a politically correct accommodation with the city, is now fighting back. To sign up for Family Research Council's terrific "Washington Update" and other e-mail publications, click HERE. — Peter LaBarbera
Scout Oath
On my honor I will do my best
To do my duty to God and my country
and to obey the Scout Law;
To help other people at all times;
To keep myself physically strong,
mentally awake, and morally straight.
Scout Law
A Scout is: Trustworthy, Loyal, Helpful, Friendly, Courteous, Kind, Obedient,Cheerful, Thrifty, Brave, Clean, Reverent
Philly Rocks the Cradle of Liberty
By Tony Perkins, Family Research Council, "Washington Update," May 28, 2008
Eight days shy of the eviction deadline imposed by the city of Philadelphia, the Cradle of Liberty Boy Scout Council is striking back. On Friday, Scout officials filed suit in federal court to end a longstanding struggle with the city over a building that the council built and has occupied since 1928 for $1 a year. In a public war over the Scouts' membership policy which bars homosexuals from joining, Philadelphia's leaders have threatened to pull the rug out from under the Cradle's headquarters. City officials say their demands are entirely justifiable under a 26-year-old city ordinance that bans discrimination based on sexual orientation.
Read the rest of this article »