"They invent ways of doing evil…" (Romans 1:30)

"Repent…and turn to God, so that your sins may be wiped out…" (Acts 3:19, NIV)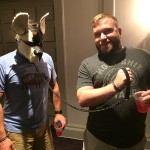 WARNING: graphic and offensive descriptions of vile homosexual acts
TAKE ACTION: Corporations Profiting Off Perversion: The homosexual perversion celebration known as "International Mr. Leather" (IML) 2016 was sponsored in part by Miller Lite Brewing Co. (312-496-2700), and Orbitz, a subsidiary of Expedia. Contact Orbitz at (844) 663-2266. Contact Expedia at 800-319-4834. To reach Chicago's Congress Plaza Hotel, which hosted IML, call 312-427-3800 or email: reservations@congressplazehotel.com.
And Please Pray: …for Lee, Eamon, Allen, Brendan and Alex–five men who attended IML and who discussed the Gospel and morality with us Saturday night outside IML.
__________________________________
By Peter LaBarbera, AFTAH Exclusive
Part One
Americans For Truth About Homosexuality (AFTAH) held a peaceful Christian truth outreach against the homosexual "International Mr. Leather" (IML) conference Saturday night (May 28, 2016), across the street from the Chicago's Congress Plaza Hotel, which hosted the perversion-fest.
Every year, on Memorial Day weekend, IML draws thousands of mostly homosexual "leathermen" from all over the world to a swank Chicago hotel to party, celebrate sadomasochistic deviance and practice some of the most heinous sexual acts invented by men–as well as everyday sodomies. In concert with IML, several orgiastic dance parties such as the "Black & Blue Ball" (sponsored in part by Miller Lite) are held in various Chicago venues. Here is the banner we used in our truth outreach:
Congress Plaza Hotel Profits Off Perversion

Homosexual "Mr. Leather" conference glorifies vile & dangerous behaviors
My compatriot Rob and I walked through the IML "Leather Market" Saturday [more on that in the next article], then stood across the street from the Congress Plaza Hotel on the city's famed Michigan Avenue for about five hours, leaving at midnight. The fact that we were not angrily shouting at the attendees softened the reaction to our message, although there was plenty of hostility to us.
A man named Lee wearing a "golden shower" t-shirt–that's slang for the perverse fetish in which a man urinates on (or in) another man (or men) for sexual pleasure–approached us and we began bantering back and forth with us on various points of morality and theology. A smart, fast-talking man and an agnostic of sorts, Lee said he embraced homosexuality several years ago after being married and having children. He strongly opposed our message that homosexual behaviors are immoral but he appreciated our non-confrontational, friendly tone and several times stepped between us and IML attendees who might have harassed us or worse.
Strangely, Lee took it upon himself to serve as our "protector" throughout the night. At one point he even laughingly yelled "bad homos" to some people gathered across the street at the hotel who were shouting chants against us. Here he can be seen on the right with his perverse t-shirt; that's a "Sister of Perpetual Indulgence" drag queen in the center behind the autho:
We had many people praying for our protection at the IML outreach, so Rob and I took Lee's presence as an answer to those prayers. Please pray for Lee and the others with whom we had discussions, including this wretched soul of a man wearing only a diaper and a leather harness:
I spoke briefly with this pitiful fellow in a diaper–I think he said his name is Eamon–and urged him to read the Gospel of John in the New Testament. My heart was breaking as I tried to tell him above the surrounding noise that God has a better plan for his life, that He does not want to see people–made in His image–degraded and exploited. But Eamon was obviously drunk or high on something so I'm not sure if he will even remember our encounter. Pray that somehow the Lord in His infinite grace and mercy will rescue him.

Read the rest of this article »