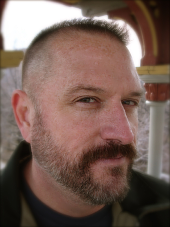 Atheist homosexual blogger Joe Jervis and his "Joe My God" blog do more to illustrate the deviance of male homosexuality than AFTAH ever could. HERE Jervis writes matter-of-factly about his meet-ups with a "thruple" (that's gay slang for three-way relationship). And HERE Jervis and his perverted followers accuse Americans For Truth president Peter LaBarbera of wanting "sweaty mansex" because Joe was mad that Americans For Truth exposed a sadomasochistic homosexual "Pig Sex" orgy at a D.C. hotel, leading to the event's cancellation. We'll have more on one of Jervis' favorite events — a twisted New York City spectacle known as the Black Party — in coming posts.
By Peter LaBarbera
I found this homosexual slang word — "thruple" — perusing atheist homosexual leatherman Joe Jervis' "Joe. My. God." website. Jervis is the New York City blogger-perv who, in a fit of pique after AFTAH exposed and helped cancel a homosexual "pig sex" orgy in a Washington, D.C., hotel, wrote an especially nasty piece (even by "gay" standards) attacking me under the title: "Peter LaBarbera wants to have sweaty mansex with every single one of you." (I'm not kidding.) How does one respond to such demented and malicious (not to mention self-hating) tripe?
Anyway, it got me thinking: the reaction of most normal people to the mere mention of "pig sex orgy" is outrage and shock that such a vile thing even occurs at all. (It's like NAMBLA — which used to march in "gay pride" parades: conservatives couldn't make this stuff up if they tried.) But Jervis and like-minded deviance defenders react by lashing out in cruel, kill-the-messenger fashion at me and AFTAH for writing about it (with their favored theme being, of course: "LaBarbera is a homo"). It's all very bizarre for the uninitiated, but no less so than "thruples," fisting, twinks, rimming, M-2-Fs, "power bottoms," "fag hags," "daddy-boy relationships," "transphobia" or countless other twisted behaviors and ideas lurking under the "queer" umbrella.
Read the rest of this article »