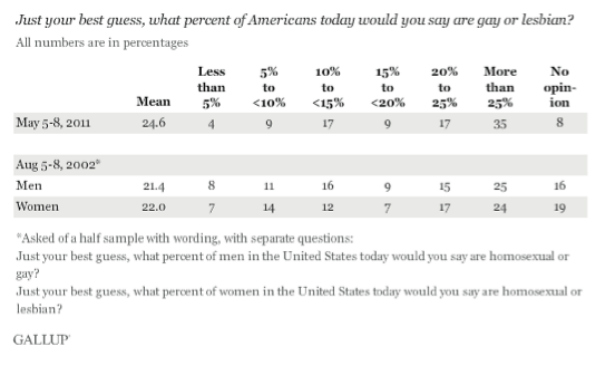 Do you really think we are having a sane societal debate on anything homosexuality-related when the typical Americans thinks that 25 percent — yes, 25 percent – of the country is "gay"?! What a frightening testament to the power of homosexualist propaganda in Hollywood and the media. Please share this Atlantic.com link (story excerpted below) about the incredible ignorance that is out there in our dumbed-down nation on this politically-correct issue. — Peter LaBarbera, Americans for Truth.
Garance Franke-Ruta of The Atlantic (May 31, 2012) reports:
In surveys conducted in 2002 and 2011, pollsters at Gallup found that members of the American public massively overestimated how many people are gay or lesbian. In 2002, a quarter of those surveyed guessed upwards of a quarter of Americans were gay or lesbian (or "homosexual," the third option given). By 2011, that misperception had only grown, with more than a third of those surveyed now guessing that more than 25 percent of Americans are gay or lesbian. Women and young adults were most likely to provide high estimates, approximating that 30 percent of the population is gay. Overall, "U.S. adults, on average, estimate that 25 percent of Americans are gay or lesbian," Gallup found. Only 4 percent of all those surveyed in 2011 and about 8 percent of those surveyed in 2002 correctly guessed that fewer than 5 percent of Americans identify as gay or lesbian.

Such a misunderstanding of the basic demographics of sexual behavior and identity in America has potentially profound implications for the acceptance of the gay-rights agenda. On the one hand, people who overestimate the percent of gay Americans by a factor of 12 seem likely to also wildly overestimate the cultural impact of same-sex marriage. On the other hand, the extraordinary confusion over the percentage of gay people may reflect a triumph of the gay and lesbian movement's decades-long fight against invisibility and the closet.