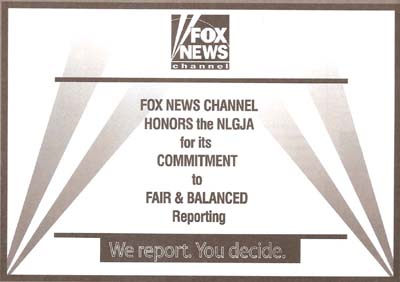 This FOX News Channel ad ran in the program guide of the recent National Lesbian and Gay Journalists Association conference in San Diego. 
The following is Allyson Smith's first installment on the National Lesbian and Gay Journalists Association (NLGJA) conference in San Diego — which she attended representing Americans For Truth. Note the casual mixing of homosexual media with "mainstream" media – all sharing and strategizing around a pro-gay perspective — and the complete lack of opposing voices present at the NLGJA panels. (Allyson tells me that at one panel on "Don't Ask/Don't Tell," the moderator said that opponents of homosexuals in the military were invited to speak but declined to attend.)
All this begs the question of whether homosexual reporters working in establishment media can truly be objective — i.e., fair and balanced —  especially when they are assigned to cover homosexual-related issues. Also, note that for ease of reading, we have not put quote marks around the word "gay" as we would normally do. – Peter LaBarbera
By Allyson Smith
Gay Activists & Journalists Mingle and Strategize Together at National Gay Journalists Conference: Day 1 at the NLGJA
On Thursday, August 30, I attended the first of three days of the National Lesbian and Gay Journalists Association convention, held at the Westin Horton Plaza Hotel in downtown San Diego. Although I have been to many homosexual conferences and events since the dawn of the millennium, at times using my real name and at other times an assumed name, this would be my first time to attend such a convention as a totally "out" Christian conservative reporter under the auspices of an organization many homosexual activists hate: Americans for Truth About Homosexuality (AFTAH), headed by longtime pro-family activist Peter LaBarbera.
Read the rest of this article »