LaBarbera asks: why so many boy victims of pedophilia?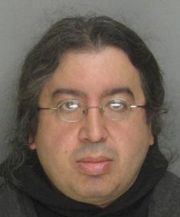 Nelson Garcia, "boy lover" and deceitful critic of AFTAH. The anti-pedophilia (yet pro-homosexuality) website Wikisposure redirected our link to their page exposing Garcia's past.
Dear AFTAH Readers,
Wikisposure, a website set up by the Perverted-Justice.com to expose pedophiles, sadly has chosen to "redirect" its page on Nelson Garcia after Americans For Truth linked to it in an effort to document Garcia past as a "boy lover" and criminal arrested for possessing child pornography. Here is our point-by-point response to Wikisposure's tendentious, pro-homosexuality post:
WIKISPOSURE WRITES: [Headline:] "Redirections"
This page is a special area set-up for redirections. Sometimes organizations and websites will try to co-opt our work to further whatever non-related cause they have.
AFTAH RESPONDS: Americans For Truth was not trying to "co-opt" anything. We merely linked to the best web resource available at the time for exposing Nelson Garcia's pederastic, criminal past as a "boy lover."
WIKISPOSURE CONTINUES: This page will be updated with link redirections that should help clarify things for all who come here.
[headline] Americans For Truth Redirection – November 2007
The anti-homosexual hate group "Americans for Truth" …
AFTAH RESPONDS: Wikisposure has obviously not done its research, thus exposes its particular biases and bigotry. Disagreement is not hate, and morality is not prejudice. AFTAH is indeed diametrically opposed to the political/cultural agendas of homosexual, bisexual and transgender activist groups; we think homosexual behavior is wrong, unnatural and changeable, and that nobody is innately "gay"; they think it is right and the basis for a healthy identity, and perhaps even marriage.
We do not "hate" people, but oppose behavior, and have many times stressed the need to reach out to homosexuals with the love of Christ. At our recent banquet, former lesbian Charlene Cothran did just that. As Christians, we are commanded to speak the truth "in love." We have condemned anti-homosexual (including "Christian") activists whose messages do not meet that standard. By classifying Americans For Truth as a "hate group," Wikisposure unfortunately shows that it is willing to make its purpose (which we naively presumed to be merely exposing pedophiles) subservient to a larger, politically correct agenda that includes demonizing and stigmatizing people of faith who do not share their homosexuality-positive viewpoint. That's too bad.
Labeling historic Judeo-Christian morality as "hate" and its defenders as "haters" is itself an act of profound bigotry. (And we must remind all concerned that many Americans who do not consider themselves religious still consider homosexual behavior to be immoral.) Our question to Wikisposure editors, and to all pro-homosexuality advocates, is this: can you disagree with homosexuality — or believe homosexual behavior is sinful — without being labeled as "haters"?  Do you "hate" Americans For Truth, or do you just disagree with us? If you do hate us, is that hate acceptable because it falls within the framework of your ideology?
WIKISPOSURE CONTINUES: … [Americans For Truth] recently attacked a Nelson Garcia who is profiled on our Wiki[1] [links to page which was the original target of the AFTAH story link on Garcia that was redirected; you may need to click another link to get to the original page]. Nelson Garcia is, of course, a dangerous pedophile activist. He should be exposed to his community and his credibility attacked, of course. He is not, by any means, profiled here because he is attracted to males. He is profiled here because he is attracted to underage minors. The reason "Americans for Truth" are attacking him isn't because he's a pedophile, but rather that he is attracted to males.
AFTAH RESPONDS: This is preposterous, and again shows Wikisposure's unfortunate willingness to put politics above its noble mission of protecting children. AFTAH helped expose Nelson Garcia because Garcia has made it his mission to demonize us, while keeping his pederastic past hidden from the public. He was ripe for exposure, spewing all kinds of lies and hatred at Americans For Truth and other Christian groups and leaders opposed to homosexuality. Garcia — busted for possessing child pornography — has the audacity to smear AFTAH founder Peter LaBarbera as "Porno Pete" and another pro-family advocate — parental rights defender David Parker — as a "child abuser." 
Read the rest of this article »