Says DOMA was motivated by "hate and discrimination" in calling for repeal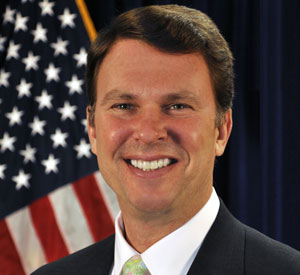 ENDA Paves the Way: John Berry (left), President Obama's openly homosexual director of the U.S. Office of Personnel Management, says that once the Employment Non-Discrimination Act (ENDA) is "enacted and signed into law, it is only a matter of time" before the rest of the administration's sweeping homosexual and transsexual activist agenda will become law.
TAKE ACTION: write (preferably not just by e-mail) and call your U.S. Congressman and U.S. Senators at 202-224-3121; 202-225-3121; www.congress.org) and urge them to oppose this radical big-government legislation that would strip away Americans' foundational right to act on their religious and moral beliefs.
The following is excerpted from the homosexual newspaper Washington Blade (emphasis added):
_________________________________
ENDA should be top priority – Berry
Says 'Don't Ask,' DOMA repeal should also be pursued
By CHRIS JOHNSON, Washington Blade
September 28, 2009
The highest-ranking openly gay appointee in the Obama administration is encouraging LGBT Americans to make passing the Employment Non-Discrimination Act their No. 1 priority and said its success would place within reach other civil rights goals.
John Berry, director of the U.S. Office of Personnel Management, called for greater focus on ENDA on Saturday following his keynote address at Out for Work's national convention at the Westin City Center Hotel in D.C.
Berry advocated for the importance of ENDA — and identified repeal of "Don't Ask, Don't Tell" and the Defense of Marriage Act as other priorities — in response to an audience member's question about possible legislative issues on the horizon and criticism that President Obama isn't moving quickly enough on LGBT issues.
Read the rest of this article »