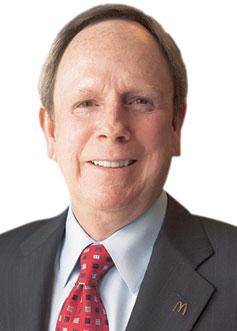 McDonald's CEO Jim Skinner; write Skinner and McDonald's through the corporation's Contact Page, or contact them by phone, fax, or snail mail here:
Phone: 800-244-6227; or: 630-623-3000
Fax: 630-623-5004
McDonald's Plaza
Oak Brook, IL 60523
AFTAH has endorsed AFA's McDonald's boycott. McDonald's has an 85% ranking on a radical homosexual group's corporate scorecard. Laurie Higgins of Deerfield, Illinois, wrote the following open letter to McDonald's:
By Laurie Higgins
In a recent letter, "Global Chief Diversity Officer," Pat Harris, wrote that, "McDonald's is associated with countless local and national affinity groups here in the United States. We have a well-established and proud heritage of associating with individuals and organizations that share in the belief that every person has the right to live and work in their community free of discrimination." What precisely does GCDO Harris mean by claiming that homosexuals have a right to live and work "free from discrimination"? Does he mean that they should be able to live and work without being harassed? If so, we're in complete agreement. No one should be harassed anywhere anytime.
Or, is he asserting that they have some sort of right to community approval of their sexual practices? If so, from where does that right derive? And is every group that is defined by anomalous sexual desires and practices owed that same right? Will McDonald's stand in unity with all these "affinity groups"? Will McDonald's cheerfully associate with the national affinity group NAMBLA [North American Man/Boy Love Association]?
Read the rest of this article »